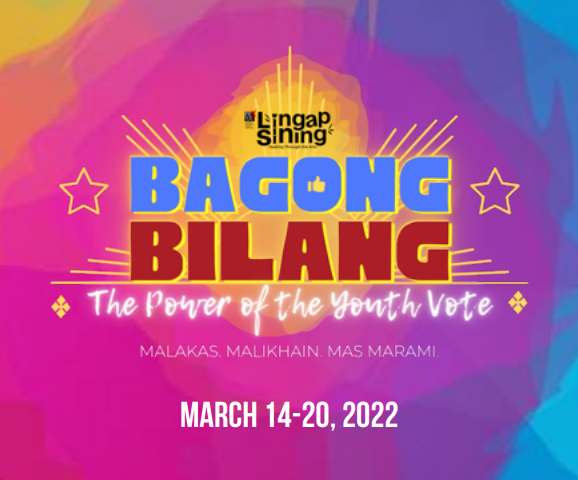 Boac, Marinduque – Beginning Monday, March 14 until 20, the Bagong Bilang creative campaign would take-off in engaging the youth for voters empowerment. The multimedia festival aims to celebrate the young people's power to lead transformative change in the communities and schools. Moreover, the Bagong Bilang festival aims to amplify the content and advocacies on voters education and youth participation towards engaged citizenship.
Looking back, last year there were a series such as the Rak the Vote: Awareness Campaign on Voters Registration which streamed Juan Tamad, workshop on voters engagement and youth leaders forum. After which, they proceeded with the Youth Voters Engagement Workshop Series including: Theater for Advocacy, Workshop/ Forum Facilitation and Digital Media for Social Advocacy through October to December 2021. The next steps involve, Bagong BIlang: The Power of the Youth Vote Festival Campaign: Arts for Advocacy Workshop on Spoken Word Collab with PhilPop on Featured Songs and videos from partners and PETA; social media partnership and amplification; and youth local action initiatives.
Here are some of the highlights of the Bagong Bilang festival on the said dates: Spoken Word Performance, Phil Pop Music Hour, Twitter Party and spaces during the first day, March 14. There would be performances via tiktok and kumu along with Facebook by the second day, March 15. On the succeeding days, there would be short plays, poetry performances with discussion on March 16 and 17 involving the student-artists and creatives. Meanwhile on March 18 and 19 is the continuation of the creative output including "Multo ng Isla" during the previous series of capacity-building through different social media platforms such as instagram, Facebook, tiktok at kumu. Finally, on March 20 there would be a recap and curtain call.
Marinduque State College has produced a digital play, Multo ng Isla that depicts the consequence of the voters' choices. Through the MSC Theater Guild, Multo ng Isla has put together the powerful narratives of environmental, politics and democracy as depicted by "specters" which recurs everytime election seasons wind up to its logical conclusion. The MSC digital will be shown by March 18, 11am and March 19, 3pm via FB live and crossposted in MSC Theater Guild, MSCCA Creative Hub and thru youtube MSCCA TV.
Bagong Bilang Festival is co-organized by the Philippine Educational Theater Association (PETA) with the youth organizations, student-artists and creatives from Infanta National High School Thespian Circle, University of the East Drama Company, Marinduque State College Theater Guild, Xavier University, University of Caloocan City, University of San Agustin Little Theater, Polytechnic University of the Philippines, Bicol University, and De La Salle Santiago Zobel.
Related Links:
Bagong Bilang Festival tampok ang mga likhang-sining ng mga kabataan ngayong Buwan ng Kababaihan